De komende weken gaan onze raadsleden antwoord geven op ingekomen vragen en stellingen. Vandaag trappen we af met een aantal vragen aan Jan Bijlsma. 
Stel je even voor?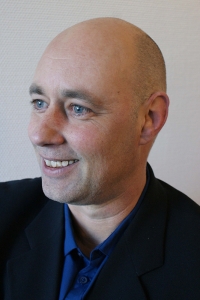 Mijn naam is Jan Bijlsma, ik ben getrouwd met Anja en heb drie kinderen; Aileen, Brian en Zoë. In het dagelijks leven verdien ik de kost als officier bij de Koninklijke Luchtmacht. Dit doe ik sinds 1989 met heel veel plezier en afwisseling. In deze periode ben ik in totaal 5 keer uitgezonden om in conflictgebieden uit te helpen.
Een aantal jaren geleden heb ik heel kort aan de lokale politiek geroken en moest toen door omstandigheden afzien van een politieke carrière. Vele jaren later bood zich weer de mogelijkheid aan om bestuurlijk actief te worden. De interesse in de politiek is nooit weggeweest en ben blij dat ik als lid van het GBA deel mag uitmaken van de raad.
Hoe lang ben je al raadslid?
Sinds 2010 ben ik raadslid voor GBA. Ik hoop hiermee een volledige tweede termijn als raadslid af te ronden in 2018.
Wat zijn jouw drijfveren geweest om politiek actief te worden voor GBA?
Allereerst is er natuurlijk de affiniteit met politiek en bestuur. Hierdoor ben ik me gaan interesseren in de lokale politiek. Ik ben kritisch en volg de lokale ontwikkelingen op de voet. Hierop had ik vaak op en aanmerkingen. Dan kan je thuis blijven zitten of daadwerkelijk de armen uit de mouwen steken. Als raadslid ben je werkelijk in staat om samen met de overige raadsleden het verschil te maken. Ik heb specifiek voor het GBA gekozen omdat deze partij een mix bevat van landelijke politieke stromingen en het GBA wordt niet geremd door landelijke richtlijnen. GBA kan zich richten op lokale politiek.
Waar ben je het meest trots op als er gekeken wordt naar je werk als raadslid?
We maken als coalitie in het begin van de raadsperiode een coalitie akkoord. Hierbij brengen we als coalitie partij speerpunten in die we gerealiseerd willen zien. Op het moment dat deze speerpunten ook daadwerkelijk verzilverd worden en je wordt hierop aangesproken door inwoners van Alphen-Chaam, dan denk ik: Dat hebben we goed voor elkaar en ben ik trots. Ook wanneer je door een inwoner van de gemeente wordt benaderd met een probleem en die je dan met via ambtenaren en/of college weet op te lossen, dan denk ik: ik ben trots. Daar doe je het uiteindelijk allemaal voor. Een goede leefomgeving voor alle inwoners van Alphen-Chaam.
Waar baal je het meeste van als je kijkt naar onze gemeente en je rol als raadslid daarin?
Er zijn nog steeds collegae raadsleden die met een heel gekleurde pet in de raad zitten. Zij zetten zich in voor een beperkt gedeelte van de inwoners van Alphen-Chaam. Deze mensen horen niet in de raad. We zitten hier voor alle kernen en niet voor een gedeelte daarvan. Dat heeft mijns inziens niets met politiek te maken maar met een beperkte visie op je rol als raadslid.
Lig je wel eens wakker van de verantwoordelijkheid die je hebt?
Nee, ik realiseer me dat de inwoners een grote verantwoordelijkheid bij ons neer hebben gelegd als raadsleden. We voeren deze taak echter gezamenlijk uit en doen dat integer en op een goed onderbouwde manier. Helaas maken we hierbij wel eens inschattingsfouten of worden we geconfronteerd met externe factoren zodat een proces wel eens anders uitpakt dan we hadden gehoopt. We nemen gezamenlijk die verantwoordelijkheid zoals we die thuis ook dragen als een goed huisvader.
Wil je nog iets kwijt?
Begrip van de inwoners Alphen –Chaam. Vaak worden we door inwoners benaderd met een vraag of probleem. Deze vragen behandelen we serieus. We hebben echter te maken met een diversiteit aan factoren waardoor problemen niet meteen of soms helemaal niet opgelost kunnen worden. Hierbij moet je denken aan het democratische karakter van de raad, financiële beperkingen, wetten en regels. Dit is soms lastig te begrijpen voor mensen die niet thuis zijn in het politieke en bestuurlijke besluitvormingsproces. Maar we blijven ons best doen voor alle inwoners.