Doormiddel van een aantal themabijeenkomsten willen wij als GBA zowel alle burgers als alle betrokken partijen optimaal betrekken bij onze visievorming voor de volgende raadsperiode. Begin 2018 willen wij als GBA namelijk ons verkiezingsprogramma voor de verkiezingen van 21 maart 2018 presenteren. Begin maart hebben wij, omtrent het onderwerp Onderwijs, een eerste themabijeenkomst mogen faciliteren. Na deze succesvolle eerste bijeenkomst volgt er in mei een tweede. Met dit keer een nieuw maar zeer relevant onderwerp:
Themabijeenkomst – Bestuur en ondersteuning, burgerparticipatie
Op maandag 15 Mei 2017 organiseert GBA een themabijeenkomst voor haar achterban en overige geïnteresseerde binnen de portefeuille Bestuur en Ondersteuning over het thema burgerparticipatie. Wij zullen deze avond aftrappen met een korte presentatie over het onderwerp burgerparticipatie. Daarna gaan we op de fiets naar een aantal projecten die mede tot stand zijn gekomen door burgerparticipatie. Een betrokken burger zal uitleg geven over zijn specifieke project. Daarna gaan we terug naar CC Den Heuvel en ronden we de bijeenkomst af. Hierbij horen we graag van u waar de verbeterpunten zitten en of dingen anders moeten. Ook horen we graag van u of er wellicht projecten zijn die u middels burgerparticipatie vlot wil trekken. We sluiten af met een drankje in de bar om nog even informeel na te praten.
Wanneer: Maandag 15 Mei
Tijd: Start 19:30 – Afsluiting rond 21:30
Waar: Cultureel Centrum Den Heuvel in Alphen
Waarover: Burgerparticipatie
Wat: Interactieve themabijeenkomst waarbij we starten en eindigen bij CC Den Heuvel maar waarbij we ook een aantal praktijkvoorbeelden in onze gemeente zullen bezoeken
Voor wie: Iedereen is welkom. Graag even aanmelden
Via deze weg willen wij u graag uitnodigen voor deze bijeenkomst. Wij vragen u wel om even aan te melden door een email te sturen naar Niels Huismans via n_huismans@hotmail.com. Hier kunt u ook terecht voor verdere vragen. Wij hopen u te mogen begroeten.
Namens het Bestuur en Fractie GBA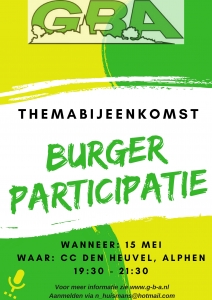 GBA – "met ambitie vooruit….."